Most frequent questions and answers
Most items are typically out the door within 7 business days but could take up to 10 business days.
Value-added tax (VAT) is a consumption tax that applies to all digital and physical goods or services sold in the EU. It's charged whenever value is added to the product throughout the supply chain, from production to the point of sale.
Any business selling physical or digital goods in the EU, including non-EU sellers, must collect VAT according to local regulations and laws. 
VAT rates vary per EU country. The EU has set a standard minimum VAT rate of 15% for its 27 member countries. The actual VAT rates of the EU countries range between 17% and 27%. Switzerland is not part of the EU and has a standard VAT rate of 7.7%, which is far lower than neighboring countries.
Vegetable tanned leather
Smooth leather: Cammello, Fieno, Cuoio, Papaya, Agave, Panna, Tuscan tan, Pesca, Marine, Pomerol (Tempesti leather, Italy; 1,2 – 1,3 mm)
Pebbled leather: Cipria, Tortora, Iris, Nero, Panna, Tuscan tan, Pesca, Marine, Pomerol, Papaya, Cuoio, Avocado, Tundra, Miele, Cenere  (Tempesti leather, Italy; 1,3 mm)
Quality and characteristics of vegetable-tanned leather 
Today, despite millennium have passed, Vegetable Tanning remains the most classic, traditional and recognizable, and the closest to the condition of nature, the most respectful of ecology and the most suitable to combine comfort and aesthetics, fashion and tradition, versatility of use and uniqueness of product. With Vegetable Tanning nature has found a way to combine with nature, because the protein of the skin admirably receives the action of the tannin which is basically the principle active content in tannic plant materials. It is therefore precisely the tannin that allows the processing of leather into leather. This substance is found more or less concentrated in numerous types of trees and plants and can be present both in the bark and in the leaves, both in the wood and in the bark or even in fruits and roots. Are they that give the tanned leather that characteristic of uniqueness that makes it so special, so immediately distinguishable from other types of concepts. The "leather scent" is something unique and it is in fact impossible, in front of leather products, whether they are bags, belts, wallets or something else, not recognize the vegetable tanned for the particular reaction that occurs only with the skin which reacts to tannin mixtures.
The smell of leather combines effectively with the smell of leather body. Vegetable leather has another great advantage, namely to age with the passing of time, modifying itself, changing color slightly, acquiring a unique appearance its kind. It is for this reason that once you purchase a vegetable tanned product it is then difficult to get rid of, because the objects made with this material are transformed into real ones reliable, unique and long-lasting travel companions, who remind us of adventures once they are old lived and time spent together. 
The Genuine Vegetable Tanned Leather Consortium is based in Tuscany, along the banks of Arno river, between Florence and Pisa. The associated tanneries operate in symbiosis with the environment thanks to a production district that is cutting-edge, both in terms of technology and organization.
Black, Latte, Plum, Sand, Bone, Sepia, Cigar, Cocoa, Tawny (Italian leather; 1,2 – 1,3 mm)
Latigo front shoulder leather
Mixed tanning (chrome+vegetable) 
Soft firmness
Latigo mixed tanning leather ensures the softness of chrome tanning but at the same time the hardening and resistance of vegetable tanning.
Natural Vegetable: this finishing, also known as "Crust", is characterized by a natural full-grain surface that is clearly visible because the skin is left in its natural state without any kind of finishing. It can be used in this state or further refined.
In the crafting process, this leather is hand-polished with a conditioner made from the mixture of beeswax and olive oil.
Mineral tanned leather
Light Tobacco – Ukrainian leather – 1,4 mm
This full-grain mineral-tanned Ukrainian leather is made from cowhide. This leather is smooth and sturdy.
In the crafting process, this leather is hand-polished with a conditioner made from the mixture of beeswax and olive oil.  This leather is approximately 1.3 mm to 1.5 mm thick.   
Plum
Latte
Cigar
Sepia
Cocoa
Sand
Bone
Naturale
Fieno
Cuoio
Cuoio pebbled
Papaya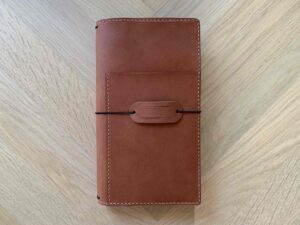 Agave
Avocado pebbled
Pesca
Panna
Miele pebbled
Pomerol pebbled
Pomerol
Marine pebbled
Tundra pebbled
Iris pebbled (will be available in February 2024)
Tortora pebbled
Cenere pebbled
Cipria pebbled
Nero pebbled
Black
Light tobacco 
Cammello (will be available in February 2024)
Tuscan tan (will be available in February 2024)
Belt closure 2,5 cm
Belt closure 3 cm
Chunky clasp closure
Chunky magnetic closure
Side closure
Spine
Bottom pocket with slit + sleeve pocket 
2 card slots + simple pocket 
Simple pockets
1 card slot pocket + tall angled secretarial pocket 
Secretarial pockets
2 card slots + secretarial pocket
3 card slots + tall angled secretarial pocket
Sleeve pocket + tall angled secretarial pocket
Bottom + secretarial pocket
2 card slots + sleeve pocket
Front pocket with raw edge
Set of letters for free personalization